Medherant
Medherant is developing a pipeline of products for pain and neurology indications, based on our next-generation TEPI-Patch® transdermal drug technology. Our first product ‐ Ibuprofen TEPI Patch ‐ entered the clinic in 2018.

Key advantages of the TEPI Patch® technology over current technologies are the high payload and very efficient release of drug. This enables lower potency drugs to be formulated as a patch and provides the opportunity to increase the dose of drugs already administered via a patch whilst also minimising the residual drug after use.
Andrew Lee
Director of Commercial Development
Sally Waterman
Chief Operating Officer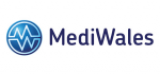 MediWales
MediWales is the life science network for Wales, a not-for-profit, independent company that creates business opportunities and partnerships for our members. We support 180 members from the medical technology, diagnostic and pharmaceutical industries, NHS health boards, university departments and professional services and suppliers. We create collaboration through our popular programme of events that focus on strategic issues for the life science industry, including regulatory updates, market access, finance and funding, clinical unmet needs and international trade.